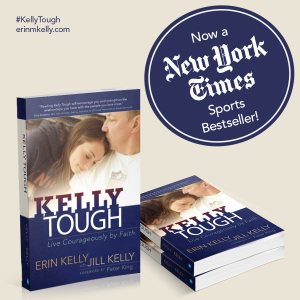 Kelly Tough is a story of love and hope: a love between a father and a daughter—Buffalo Bills former quarterback, Jim Kelly, and his oldest daughter Erin. Erin shares a deeply personal account of the love a family can have for each other during the darkest times, and a greater love that a heavenly Father has for you.
Whatever circumstance or heartbreak you find yourself overwhelmed by right now, it is not the end of the story. In fact, it just might be one of the greatest chapters as you, like the Kellys, find strength in weakness, hope in the midst of heartache, and joy in spite of suffering.
Introduction      Endorsements      Media
Purchase your copy Here.
* A portion of the proceeds from sales go to the Hunter's Hope Foundation.